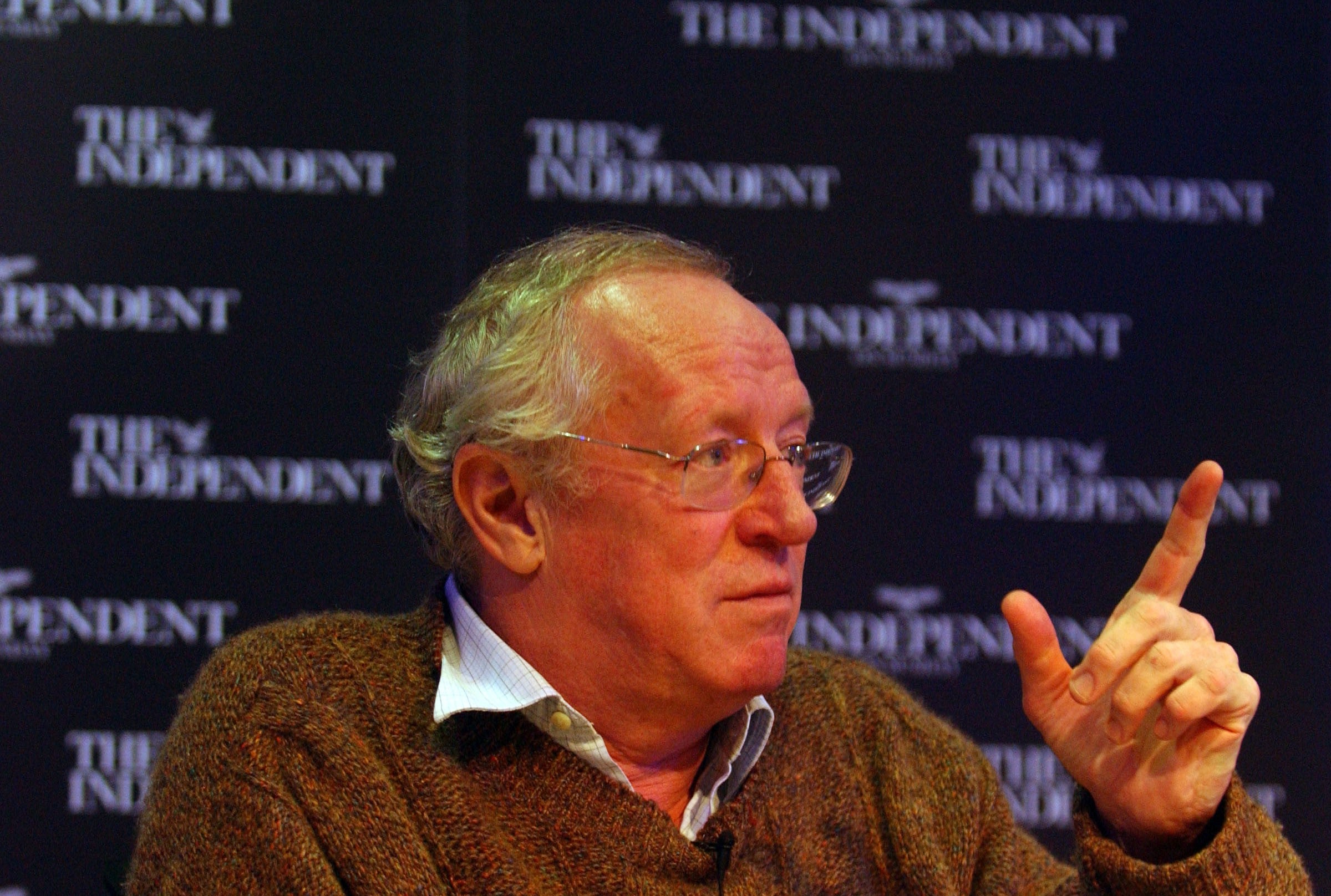 Robert Fisk, 1946-2020
Like most people on the left, I relied heavily on five journalists after George W. Bush unleashed his war on terror: Julian Assange, Glenn Greenwald, Seymour Hersh, Patrick Cockburn, and Robert Fisk. After 2011, I was dismayed to see that all of them—to one degree or another—had begun to serve the war aims of the Assad dictatorship. To a large degree, this was a function of their tendency to superimpose the experience of Iraq on Syria. The West was bent on "regime change", just as it was in 2002. You also had WMD type propaganda that justified intervention. In Iraq, the claim was that Saddam Hussein was developing nuclear weapons. Correspondingly, every time Assad was accused of launching a chemical weapons attack, they insisted that was another attempt by the USA to provide an excuse for a full-scale intervention. Finally, just as you had American reporters embedded with the military in Iraq, you also had reporters embedded with the military in Syria. Unfortunately, in this instance some were embedded inside Assad's military.
Like Judith Miller, Robert Fisk, who died last Friday at the age of 74, never saw the parallel between his own fearless defiance of imperialism in covering Iraq and Judith Miller's obsequious service to George W. Bush. As is the case with all five reporters, they made a terrible mistake in failing to see Syria on its own terms.
The first dispatch by Fisk from Syria in the Independent is dated March 31, 2011 and can hardly be regarded as regime propaganda, especially indicated by the last paragraph: "Syria needs to be renewed. It does need an end to emergency laws, a free media and a fair judiciary and the release of political prisoners and – herewith let it be said – an end to meddling in Lebanon. That figure of 60 dead, a Human Rights Watch estimate, may in fact be much higher. Tomorrow, President Bashar al-Assad will supposedly tell us his future for Syria. It had better be good."
Just about a year later, Fisk showed the first signs of disaffection from the rebels. On March 9, 2012, he writes a column comparing Homs to Srebrenica. He edges toward a both sides are bad narrative: "In Srebrenica, more than 8000. In Homs? Well, if all Syria has lost 8,000 souls in a year, Homs's sacrifice must be far smaller. But then the UN statistics do not appear to include the thousands of Syrian army casualties. Government soldiers were also killed in Homs."
On July 22nd, he writes an article that begins to drift away from the evidentiary. A young Syrian shows up in Beirut and tells another Syrian that women have been raped outside the city of Homs – one estimate puts the number of victims as high as 200 – and the rapists are on both sides. An anonymous source… On both sides… You get the picture? He is veering toward unsubstantiated anecdotal material, not what you'd expect from a top reporter.
A month later, on August 23, 2012, he begins to rely on the Syrian army for what's going on in Aleppo.
Many of the soldiers, who were encouraged to speak to me even as they knelt at the ends of narrow streets with bullets spattering off the walls, spoke of their amazement that so many "foreign fighters" should have been in Aleppo. "Aleppo has five million people," one said to me. "If the enemy are so sure that they are going to win the battle, then surely there's no need to bring these foreigners to participate; they will lose."
Three days later, he follows up with another article titled "Those trying to topple Assad have surprised the army with their firepower and brutal tactics". It refers to rebels capturing a member of the shabiha, Assad's paramilitary death squad, who is stripped naked and hanged. Then his corpse was pelted with shoes and decapitated. His source for this atrocity tale? Syrian army files.
It should be said that throughout 2011 and 2012, he continues to report on the savagery of the dictatorship so it is understandable why many on the left would regard Robert Fisk as a reliable source of news at the time, including me as I recall.
But by the middle of 2013, the tune changes radically. In an article titled "As the US wants to arm 'nice Syrian rebels' we must remind ourselves that weapons are not just guns. They are about money; Hardware will end up in the hands of al-Qa'ida", we end up with the dominant theme of the pro-Assad propaganda network, namely that Assad was dealing with a terrorist Salafist menace.
The US doesn't plan to send weapons to the horrid rebels, mark you – not to the al-Qa'ida-inspired al-Nusra Front whose chaps film themselves eating Alawites for YouTube videos, barbecue the heads of captured Syrian troops and murder 14-year-old schoolboys for blasphemy. Only to the nice rebels, the Free Syrian Army deserters who are battling the forces of Assad darkness in the interests of freedom, liberty, women's rights and democracy.

Anyone who believes this knows nothing about war, killing, barbarity and, especially, greed. Because weapons are not just guns. They are currency. They are money. They are saleable commodities the moment you send them across any border. Their value in US dollars, pounds sterling, Syrian pounds or Qatari dinars is infinitely more important than their use in battle.
What can you say? This lurid opening is designed to alienate Fisk's civilized British readers that any weapons ending up to defend Syrians from Assad's killing machine will end up willy-nilly in the hands of al-Qaeda. This crosses the border into Vanessa Beeley-land. In August, Assad launches a sarin gas attack on East Ghouta, which prompts Obama to threaten a retaliation for him crossing the red-line. What's Fisk's response? To warn that an intervention would mean that the US is fighting on al-Qa'ida's side. I too would have been opposed to intervention but I would not have made an amalgam between the revolutionary forces and al-Qa'ida.
A month later, Fisk writes the first of his "false flag" articles, this time finding reasons why Assad could not have been involved with the sarin gas attack. Using the same dubious reporting methods of fellow reporter laureate Seymour Hersh, he tries to impress readers with his insider access. If your source is a spook or a government official, how can you not be telling the truth? He writes:
Nevertheless, it also has to be said that grave doubts are being expressed by the UN and other international organisations in Damascus that the sarin gas missiles were fired by Assad's army. While these international employees cannot be identified, some of them were in Damascus on 21 August and asked a series of questions to which no one has yet supplied an answer. Why, for example, would Syria wait until the UN inspectors were ensconced in Damascus on 18 August before using sarin gas little more than two days later – and only four miles from the hotel in which the UN had just checked in? Having thus presented the UN with evidence of the use of sarin – which the inspectors quickly acquired at the scene – the Assad regime, if guilty, would surely have realised that a military attack would be staged by Western nations.
This meme has been seen a hundred thousand times in reporting on chemical attacks in Syria. Why would Assad provoke the USA? The answer should be obvious. It never did anything worse than bomb an air field but only after warning a Russian officer that the attack was pending. The next day all its warplanes were involved in new bombing runs. Then, another time pissing off Trump to the extent that he fired some Tomahawk missiles into government buildings that had no effect whatsoever on Assad's war-making capabilities.
I can't exactly remember why but a year or so ago, I got so annoyed with something Fisk wrote about Douma that I sent snail-mail to the Independent c/o Fisk, giving him a piece of my mind. To my surprise, he wrote back in a tone reminding me of a professor chastising a student who cheated on a final. It's really too bad that these people with inflated reputations like Robert Fisk, Seymour Hersh, Noam Chomsky, and Stephen F. Cohen received such adulation. What happens is that your ego gets so inflated that you can't take criticisms to heart. To be a radical journalist like John Reed, you need to have much more ties to the mass movement. For people like Fisk, I'm afraid that after 2011, his only connections were to the Syrian military and the bars in Damascus's four-star hotels.