Robert Fisk
All of Robert Fisk's bad habits come into play in a recent Independent op-ed piece titled "The Syrian conflict is awash with propaganda – chemical warfare bodies should not be caught up in it" that is part of the aggressive propaganda campaign trying to absolve Bashar al-Assad from the chlorine gas attack in Douma last year. Along with Fisk, two other British journalists have been making a huge stink over alleged OPCW cover-ups. One is Jonathan Steele, who works for the liberal Guardian newspaper and the other is Christopher Hitchens's brother Peter, who works for the rightwing Mail on Sunday. Their articles on Douma rely heavily on two OPCW whistle-blowers, Ian Henderson and "Alex", who spoke at a conference sponsored by Courage Foundation, which is closely tied to Wikileaks. Since Julian Assange has been a long-time supporter of Assad, it is no surprise that his allies are doing everything possible to prove that jihadis organized a "false flag" in Douma in order to give the USA an excuse to bomb Syria.
Fisk starts off with an anecdote about a conversation he had with a NATO officer after giving a talk on the Middle East to European military officials in the Spring of 2019. After his talk, one of the officers cornered and then told him, "The OPCW are not going to admit all they know. They've already censored their own documents." This kind of insider-knowledge should be familiar to anybody who has read Seymour Hersh for the past 8 years, until he became damaged goods to the LRB or any other reputable periodical. Just refer to some spook or General on the QT and you'll wow your readers even if what they tell you cannot be verified. Unlike Hersh, Fisk couldn't even get his informant to provide the usual "false flag" story. He writes, "I could not extract any more from him. He smiled and walked away, leaving me to guess what he was talking about."
Luckily for Fisk, the NATO officer phoned him a few months later and said that he was not talking about the Henderson report. But, you might ask, what then was he talking about. Well, who knows since his informer then "immediately terminated" their conversation?
Apparently, it was Alex who once and for all established that the OPCW was in cahoots with the CIA in trying to make the unblemished Bashar al-Assad look like a war criminal. (Perhaps Fisk wasn't aware that Douma had been attacked with chlorine gas three times already in 2018. He evidently saw no need to report about it since so few people died. So what if they were sick enough to be hospitalized? That's what you deserve for living in a city that stubbornly resisted the dictatorship.)
The most damaging item in Fisk's article turns once again to the chlorine tanks that were found in the upper floors of the apartment building where more than 40 dwellers were found dead on the lower floors:
Alex also said that a British diplomat who was OPCW's chef de cabinet invited several members of the drafting team to his office, where they found three US officials who told them that the Syrian regime had conducted a gas attack and that two cylinders found in one building contained 170 kilograms of chlorine. The inspectors, Alex remarked, regarded this as unacceptable pressure and a violation of the OPCW's principles of "independence and impartiality".
I have no idea how informing the OPCW that two chlorine gas cylinders had been found amounted to "unacceptable pressure." They had been widely acknowledged by the OPCW leadership on one side and the whistle-blowers on the other. They only differed on where they came from. The leadership said they came from a helicopter and the whistle-blowers said that jihadis carried these five-hundred pound tanks from some undisclosed location into the building and then up six stories in full view of the Douma population. You'd think that if this was the case, the dictatorship would have found someone from Douma to verify that a false flag did take place. Keep in mind that Assadists are making the case that these devilish jihadis released the gas in order to provide the necessary victims that Donald Trump needed to justify bombing some buildings in Damascus. Of course, if Trump was truly trying to punish Assad, he wouldn't have cut off all aid to the rebels long before the Douma attack.
Ironically, the Independent article contained a video that had nothing to do with Fisk's false flag bullshit. It was captioned "Syria war: At least 16 killed in 'beyond sadistic' missile attack on camp for displaced people" and depicted a slaughter in Idlib. For all we know, some of the dead might have come there from Douma. The day after the chlorine gas attack, those who were still living boarded buses and went to Idlib, a Gaza-like hellhole that was home to all the poor people who Assad wanted to quarantine from his religiously tolerant, state-socialist paradise.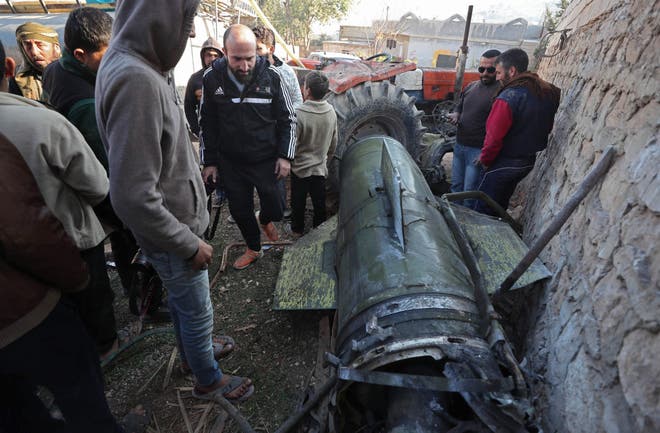 Civilians gather next to a fragment of a ground-to-ground missile fired by Syrian regime forces (AFP via Getty Images)
The Independent covered the displaced people tragedy on November 21, 2019. Headlined with the same caption found beneath the video clip in Fisk's article, it was the sort of reporting that the cynical and degraded reporter is no longer capable of:
The Syrian regime bombarded a camp hosting displaced people and a maternity hospital in the country's northwest on Wednesday, killing at least 16 people, the vast majority of whom were women and children.
Dozens were injured and at least eight children and two women were thought to have been among those killed, according to the Syrian Observatory for Human Rights (SOHR).
Large parts of the camp were burnt and several fire brigades were called to the scene, with rescuers warning on Thursday that the death toll was expected to rise as more people succumbed to severe burn injuries.
The regime fired at least two ground-to-ground missiles, which caused "significant damage to the camp as well as the burning of tents of displaced people", SOHR reported.
Fisk is no longer capable of such reporting because he became embedded in the dictatorship's army in the same way that people like Judith Miller became embedded back in 2002. What a disgrace.