James Livingston
James Livingstone is now the fourth professor and FB friend who has been victimized by something they wrote on social media. It is too soon to tell what kind of punishment Rutgers will mete out but if the protests from FIRE and PEN have their intended effect, the school will just drop the charges.
Although I obviously support James's free speech rights, I feel an obligation to say something about why these victimizations keep taking place. There is a definite pattern here that I will identify after reviewing the four cases.
(1) Steven Salaita:
This was the first and best-known case. After being hired by the University of Illinois in 2013, the school rescinded the offer after Israeli lobby activists brought some of his Tweets to the attention of the administration, especially this one that was smeared as a "blood libel": "At this point, if Netanyahu appeared on TV with a necklace made from the teeth of Palestinian children, would anybody be surprised?" It should have been obvious that this was Swiftian satire but the board preferred to placate wealthy Jewish donors rather than uphold academic freedom.
(2) George Ciccariello-Maher:
His case was almost as widely publicized as Salaita's, to a large extent fueled by his appearances on Fox News. George was a big-time Twitter user, firing off "edgy" tweets that he probably understood would get under the alt-right's skin. On Christmas Eve in 2016, he tweeted "All I Want for Christmas is White Genocide", prompted by the racist backlash against State Farm Insurance for purportedly advancing "white genocide" through a commercial featuring an interracial couple. This trope of "white genocide" is ubiquitous to the alt-right, including the business about white farmers in South Africa being killed off. After the fuckwit Tucker Carlson claimed that this was taking place, Trump followed up with a tweet even though it had no factual basis. Unlike the University of Illinois, Drexel University defended his free speech rights but George resigned eventually because the death threats and other forms of harassment became intolerable. Like Salaita, he was guilty of nothing except using Swiftian satire that might have been acceptable among leftists but not to Fox News's audience. Indeed, if George had used Swiftian satire on Zionists, he might have suffered the same fate as Salaita.
(3) Johnny Eric Williams:
He is a tenured African-American professor at Trinity College in Connecticut who posted a link to a Medium article in June 2017 just after a gunman opened fire on Republican Congressmen playing baseball in Washington. The article, titled "Let Them Fucking Die", advocated:
If they are choking in a restaurant.
If they are bleeding out in an emergency room.
If the ground is crumbling beneath them.
If they are in a park and they turn their weapons on each other:
Do nothing.
After rightwing outlets targeted Williams as well as the university, the school was closed down for a day in the hope that the furor would die down. Eventually, the administration stuck by Williams even though he was forced to take a leave of absence.
Essentially, Williams was accused of sponsoring "white genocide" just like George C-M even though all he did was link to an article that used inflammatory rhetoric to make a point. Understanding that this was a punitive leave, the AAUP issued a statement taking issue with the school's president Joanne Berger-Sweeney, an African-American like Williams. From a Chronicle of Higher Education article:
Henry Reichman, chair of the AAUP's Committee A on Academic Freedom and Tenure, said Monday that putting Williams on punitive leave amounted to a "clear violation of the professor's academic freedom." The association considers involuntary leaves of absence as severe sanctions that should only be imposed absent a faculty review when the professor in question poses an immediate safety threat.
Calling Berger-Sweeney's announcement "one of the most mealymouthed statements I've ever read," Reichman in an email said he wondered, "What on earth does 'we must be able to engage in conversations about these difficult and complex issues' mean? Conversations about race, like the one in which [Williams] was participating on social media (and not in his capacity as a Trinity faculty member)? Or the conversations about academic freedom and freedom of speech to which Berger-Sweeney refers? These freedoms are not simply topics to 'discuss' and 'converse' about; they are first and foremost principles to defend."
Sadly, he added, "there is nothing in this statement suggesting that Trinity will come to their defense."
(4) James Livingston:
James is a tenured professor of history at Rutgers whose FB posts tend to be more personal than those of the three above. And often there is a mixture of the personal and the political as with this May post: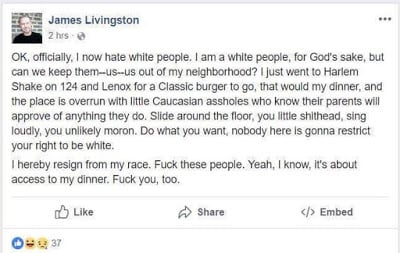 In exactly the same fashion as the others, his rather angst-ridden, semi-literary, and rather politically useless rant was denounced by Fox News and company as racial hatred against whites. (In Salaita's case, it was white Jews who enjoy state power in Israel.)
For each and every one of these interventions in social media, there is no question that perhaps 80 percent of the motivation was to ventilate rather than educate. There is a "shock jock" element that reminds me of what I used to hear all the time before Howard Stern moved to Sirius. "Did you hear what Howard said yesterday morning?"
Let's face it. Social media is the realm of one liners. And for Twitter, it was 140 characters until recently. Is anybody surprised that both Salaita and George C-M ended up trying to explain what they really meant after the tweet appeared? If the meaning is not crystal clear at the first iteration, it probably didn't really serve the purpose of consciousness-raising.
Can't people make the connection between the victimization of these four important professors and the overall crisis of social media, where standards such as fact-checking go by the wayside? In the few times I got involved in Twitter debates, I was astonished by the amount of pure, unadulterated lying that goes on. Since the issue was Syria, I have no doubts that I was dealing with people paid to write lies.
In a very perceptive article that appeared in the April 20, 2015 Huffington Post, a human resources professional named Carla Poertner wrote:
I do recall a time before Facebook and mass immersion into short bites of information associated with chaotic and inattentive thinking that is rewiring the very synapses of our brains, that we actually read books, for learning and for fun.
In university we debated arguments based on research from stacks of these relics. Books with pages to turn, corners to fold, words to underline and paragraphs that we would flip back and forwards to in an attempt to find that one thought we wanted to quote for a paper.
It didn't seem unusual, then, to focus our attention on an issue long enough to see past the headline. The whole point was to try to understand the complexity of what was in front of us.
Contrast this with our newsfeed, full of short bites and quips. Post anything too long and we lose our audience's shortened attention spans.
Ironically, all of these people—Salaita, George Ciccariello-Maher, Johnny Eric Williams and James Livingston—have written wheelbarrows full of books as well as dumpster-sized collections of articles in JSTOR type refereed journals. After all, that's what they do for a living. But when it comes to social media, there is a tendency to forgo scholarly standards and to write stuff off the top of your head, which is no problem in and of itself. It only becomes a problem when it becomes fodder for FOX News.
So, comrade professors, think before you tweet or post to FB. We don't want to see you victimized because you have a responsibility to the broader movement. In an age when tenure is more difficult than ever, especially for radicals, preserving the cadre is essential—as we used to put it in the Trotskyist movement.