Victor Pinchuk paid $150,000 to Donald Trump for 20 minutes worth of bullshit at a conference he organized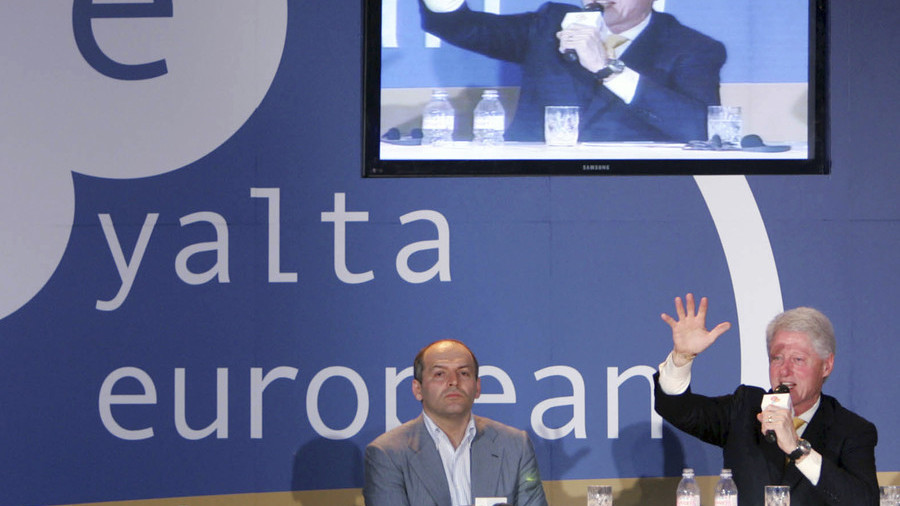 Victor Pinchuk (l) also gave between $10 million and $25 million to the Clinton Foundation. That's how Ukrainian oligarchs operate.
If you've ever heard the doddering old fool Stephen F. Cohen being interviewed by the creepy, reactionary John Batchelor on his WABC radio show, you will get the same talking points repeated over and over–the same sort of dark warnings about Russiagate being a McCarthyite witch-hunt that you can hear from Max Blumenthal on Tucker Carlson's Fox News show.
For Cohen and Blumenthal, a key part of this "leftist" defense of multipolarity keeps coming back to Ukraine that is depicted as a geopolitical chess game between the evil NATO/EU forces on one side lining up with Kiev and the good guys in the Donetsk People's Republic on the other. From their rhetoric, you'd think it was 1940 and that an invasion of Russia was on the agenda. If you are even vaguely up to speed on historical materialism, you'd realize that the German bourgeoisie wanted to destroy Bolshevism. And what would the motivation of the owners of Mercedes-Benz be today? To bust down the walls blocking it from the Russian market?
Today's NY Times has a report on the ramifications of the FBI raid of Trump's personal attorney Michael Cohen's office:
The special counsel is investigating a payment made to President Trump's foundation by a Ukrainian steel magnate for a talk during the campaign, according to three people briefed on the matter, as part of a broader examination of streams of foreign money to Mr. Trump and his associates in the years leading up to the election.
Investigators subpoenaed the Trump Organization this year for an array of records about business with foreign nationals. In response, the company handed over documents about a $150,000 donation that the Ukrainian billionaire, Victor Pinchuk, made in September 2015 to the Donald J. Trump Foundation in exchange for a 20-minute appearance by Mr. Trump that month through a video link to a conference in Kiev.
So who is this oligarch that is seeking to make an alliance with Trump, our dastardly president that is being described by Rachel Maddow as being in bed with Putin? You'd think that he would be one of Yanukovych's pals. Remember Yanukovych? He was the former President of Ukraine who was overthrown by fascist mobs who were being deployed by Victoria Nuland as the first stage of a new World War intended to turn Russia into a colony of NATO and Wall Street banks.
Well, it turns out that Victor Pinchuk was a major advocate of the policies associated with Euromaidan, NATO, the EU, etc. The Tablet, a left-Zionist magazine, described an oligarch that in Cohen and Blumenthal's eyes would be the embodiment of pure evil:
One breezy evening last September, Viktor Pinchuk, Ukraine's second-richest man, stepped onstage at the Livadia Palace in the Black Sea resort of Yalta to introduce the star speaker of the annual international conference he hosts to promote his country's ties with the West: former Secretary of State Hillary Clinton. Nearby, at a table set for an exquisite five-course meal, sat her husband; they were joined in the hall by Shimon Peres and Tony Blair, as well as a number of former European heads of state, top diplomats, and business tycoons. "Mr. President, you are really a super star," Pinchuk told Bill Clinton in a seemingly apologetic tone, "but Secretary Clinton, she is a real, real mega star."
But as you continue reading the article, you will discover that this was only the latest permutation of Pinchuk's opportunist brand of capitalist deal-making. There was a time when he would have been hoisted on the shoulders of Cohen and Blumenthal:
In the fraud-ridden election that triggered Ukraine's so-called Orange Revolution in 2004, Pinchuk backed Kuchma's handpicked successor—Viktor Yanukovych, who eventually won the presidency in 2010 and whose recent decision to shelve a key treaty with the European Union and instead embrace Russia triggered the demonstrations that have seized Kiev in recent weeks.
Getting the picture? The Ukrainian oligarchy's only loyalty is to its personal fortunes. Perhaps the clearest example of that was former Ukrainian Prime Minister Yulia Tymoshenko who came to power as a Euromaidan type politician in 2005. Widespread discontent with her policies led to her being replaced by Yanukovych in 2010. Oddly enough, after she lost office she was charged with abuse of power and embezzlement and sent to prison. So what was her crime? Conspiring with the Rothschild bank?
Actually, it was conspiring with Gazprom—Putin's petroleum piggy bank. In the sentencing, the court decided she deserved seven years in the can for abusing her power in forcing through a gas deal that saddled Ukraine with an exorbitant price for gas. She might have pissed off Ukrainians but she was his choice in the first election following Yanukovych's departure despite her nationalist rhetoric as the Moscow Times reported:
Putin made it very clear that Moscow would like to see former Ukrainian Prime Minister Yulia Tymoshenko become that country's next president. He alluded to this twice recently, using almost exactly the same wording each time and wistfully recalling their productive working relationship.
Why is Putin endorsing Tymoshenko? Does he want to undermine her chances of winning the presidential elections on May 25 by casting her as the Kremlin favorite? Or does he have just the opposite plan in mind — to help Tymoshenko win the support of the pro-Russian voters who previously stood behind former Ukrainian President Viktor Yanukovych?
The second theory is bolstered by the fact that Tymoshenko holds very close political ties to Viktor Medvedchuk, once the head of former Ukrainian President Leonid Kuchma's administration and a man who has long and unabashedly been Putin's personal agent for influencing the situation in Ukraine. Also, Medvedchuk's long-time political and business partner, Andrei Klyuyev — a pro-Russian politician and former head of Yanukovych's presidential administration — was one of the main advocates for unifying the Party of Regions with the bloc supporting Tymoshenko into a so-called "broad" coalition in 2009.
Yesterday I began reading Yuliya Yurchenko's new book "Ukraine and the Empire of Capital" from Pluto Press. As far as I can tell, this is the first attempt to present a Marxist analysis of Ukraine's miseries. After seeing the article on Pinchuk in the NY Times, I decided to see what she had to say about him.
To start with, Pinchuk's billions were the result of his early inside track in the transformation of state-owned enterprises in Eastern Ukraine into private property. In this, he was enjoying the instant wealth that both Yeltsin and Putin's cronies enjoyed. Furthermore, he linked up early on with Tymoshenko who became a partner of his in 1994 along with Pavlo Lazarenko in a business importing gas from Turkmenistan. Lazarenko was Prime Minister of Ukraine just like Tymoshenko and just as crooked. He was put on trial in the United States for money-laundering, corruption, and fraud where he began serving a 9-year prison term in 2006. Wikipedia states that he now owns a luxurious mansion in Marin County, California that was bought with money looted from the Ukrainian budget.
In an analysis of the different fractions of Ukrainian capital, Yurchenko links Pinchuk to one that is in partnership with Western investors and criminal elements, among them one Dmitry Firtash who had close ties to Paul Manafort as well as the deposed Yanukovych. In 2008, Manafort's firm was involved with Firtash in a plan to redevelop the Drake Hotel in NYC for $850 million. One of the other partners working with Manafort on the deal was the former exclusive broker for Fred Trump's properties, Brad Zackson. What a coincidence. Firtash is facing bribery charges in the USA for a deal he secured to extract titanium from mines in India and is now fighting extradition to the USA from Austria.
I'll have much more to say about Yurchenko's book but will for the time being conclude with the last two paragraphs:
Maidan of 2013-2014 was against the injustice brought on by the neoliberal kleptocracy, corruption of the judiciary, predatory militia, and widespread state asset embezzlement in the midst of deteriorating conditions of life. It was a culmination of a discontent that brewed for over 20 years and both in east and west of the country it had the grass-roots origin and included organised labour, miners too. The discontent over rising prices for food (58 per cent) and commonal housing fees (54 per cent), loss of work (34 per cent) and wage and pension arrears (32 per cent), corruption (27 per cent) and crime (20 per cent) – that is what unifies Ukraine's people. Neither the EU, nor NATO; despite their growing popularity as a response to the current crisis. Ukraine-EU association agreement is a carrot that now does n4•1 match the stick anymore.
The combination of neoliberal marketisation and politically empowered kleptocratic and the internally heterogeneous ruling(/capitalist) bloc of Ukraine have created the combustive atmosphere in the country that has not gone away with Yanukovych's escape. Instead, the rule of neoliberal kleptocrats entrenched even deeper. The war in the east of the country now serves as a sanction for further anti-social austerity reforms that will further untie the hands of the oligarchs while they will keep the IMF and the EU satisfied. All this comes at the expense of further state dependence on foreign debt and effectively makes Ukraine's government more susceptible to external meddling in domestic policy-making in addition to making the economy increasingly vulnerable. The above developments are underlined by growing public disapproval of the official Kyiv manifest in the ongoing and growing number of protests the country as the Centre for Social and Labour Research surveys show. The second Maidan has not brought the change that many have already died for, yet it was only the beginning, not the end of the dispossessed fighting back. Ukraine is pregnant with the next, more violent Maidan.