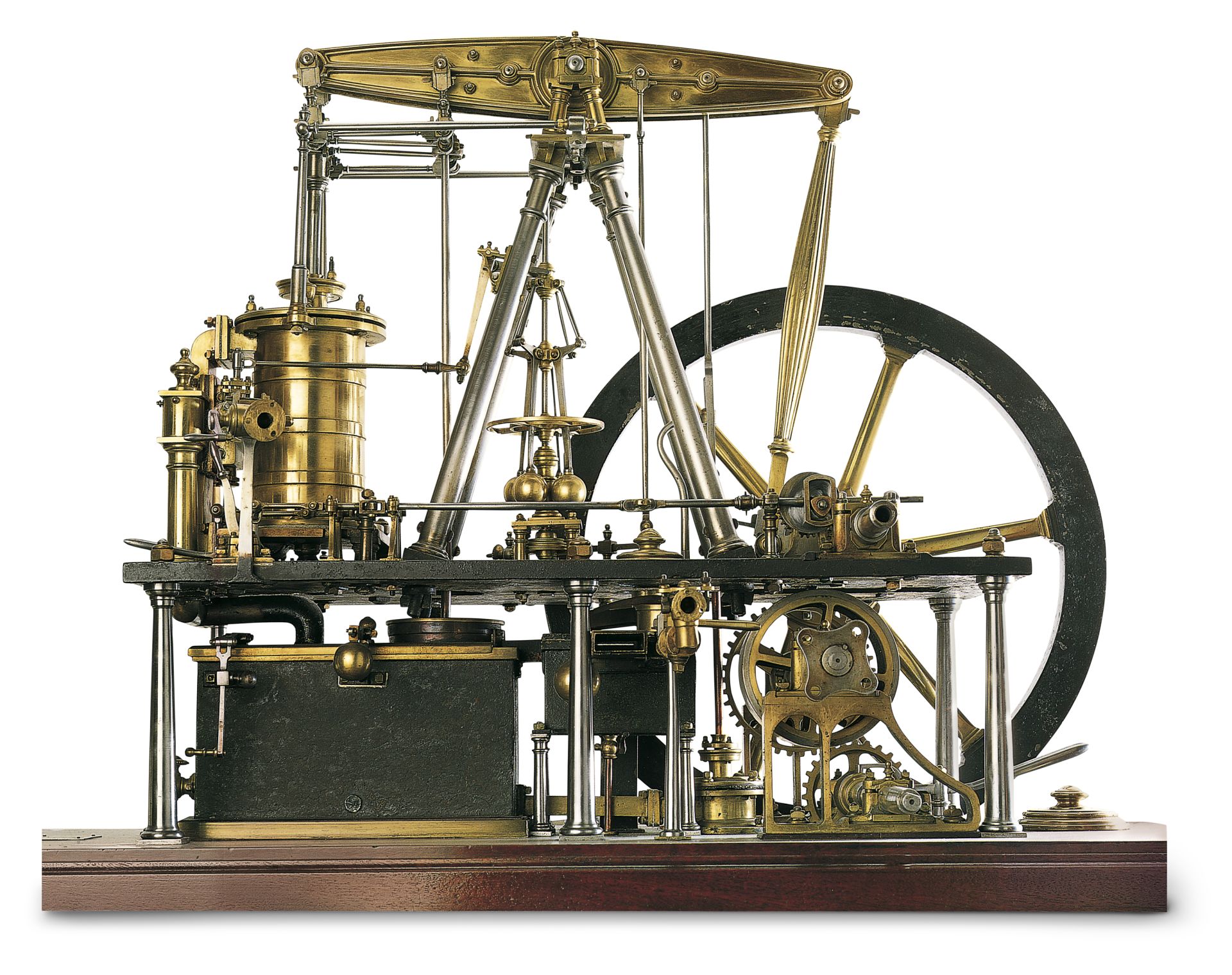 James Watt's steam-engine
In Historical Materialism (2013, 21.1), there's a 53-page article by Andreas Malm titled "The Origins of Fossil Capital: From Water to Steam in the British Cotton Industry" that presents the same arguments found in his 2016 book "Fossil Capital: The Rise of Steam Power and the Roots of Global Warming". In a nutshell, his main idea is that when England adopted coal-powered steam engines to run the machinery used to spin cotton into yarn, it was a decision that eventually led to the general usage of fossil fuel in manufacturing and thus climate change.
At first blush, this seems counter-intuitive since burning coal was more costly than the water wheel. After all, once you built one, the water was free while it cost money to pay the wages of miners who went into the ground to dig it up as well as the railroad trains that delivered it to the factory. Malm writes:
In 1786, the brothers Robinson erected the first rotative steam engine to drive machinery for spinning cotton in their Papplewick factory on the River Leen. But they soon became disappointed. In a complaint that would long haunt steam power, the brothers faulted the engine for excessively high fuel costs: coal commanded a price of up to 12 shillings, to be measured against the free running water of the Leen. Instead of pursuing steam further, they fell back on the natural supply of the river, augmented it with reservoirs, and continued to spin by water.'
Not only was the water-wheel cheaper, it was more powerful. James Watt's steam engines typically were rated at 60 horsepower while the largest water-powered mills were 5 times more powerful. Furthermore, they were less prone to mechanical breakdown.
For the industrialists, the advantage of coal was that it could allow factories to be built anywhere there was abundant labor. Since rivers did not necessarily flow through heavily populated areas, it meant that hiring workers was more difficult. John McCullough, a leading bourgeois economist of the period put it this way: "But the invention of the steam-engine has relieved us from the necessity of building factories in inconvenient situations merely for the sake of a waterfall. It has allowed them to be placed in the centre of a population trained to industrious habit."
Malm describes the hiring process that was so onerous to the profit-seeking class:
Recruitment and maintenance of a labour-force were the defining problems of the factory colony. When a manufacturer came across a powerful stream passing through a valley or around a river peninsula, chances were slim that he also hit upon a local population predisposed to factory labour: the opportunity to come and work at machines for long, regular hours, herded together under one roof and strictly supervised by a manager, appeared repugnant to most, and particularly in rural areas. Colonisers following in the steps of Arkwright frequently encountered implacable aversion to factory discipline among whatever farmers or independent artisans they could find. Instead, the majority of the operatives had to be imported from towns such as London, Manchester, Liverpool and Nottingham, requiring steady advertisement in the press as well as attractive cottages behind leafy trees, allotment gardens, milk-cows, sick- clubs and other perks to persuade the workers to come, and to stay.
Another problem was the occasional unreliability of water streams. When a river froze over, production stopped. Or in periods of drought, the water would be inadequate to rotate the mill. On the other hand, steam engines did not rely on such exigencies. A supply of coal could be depended on. Brought together, steam power, machinery and an ample supply of workers could ramp up the production that was necessary for British textiles to dominate the world markets. Showing his contempt for the bosses of yesteryear, Malm writes: "A perfectly docile, ductile, tractable labourer: the wettest dream of employers come true. Here were the reasons to glorify 'the creator of six or eight million labourers, among whom the law will never have to suppress either combination or rioting', in the words of François Arago, author of the first major biography of Watt."
In some reviews, Malm's valuable insights are linked to Political Marxism. For example, in the ISR, Bill Crane provides some background on the book:
Even such a pioneering and innovative study as Fossil Capital has its weak points. It is based on Malm's doctoral dissertation, and its erudition in one specific area of social science can be difficult for readers (like myself) who do not share his background. Similarly, Malm draws deeply on several different schools of Marxist thought, including Robert Brenner and Ellen Wood's historical interpretation of the rise of capitalism in England, the structuralist Marxism of Louis Althusser, and Henri Lefebvre's work on capitalism's production of space.
Meanwhile, Michael Robbins's review in BookForum (behind a paywall) sums up the book's argument about as succinctly as can be imagined as well as making the Political Marxism connection:
Malm is the author of Fossil Capital (2016), the best book written about the origins of global warming. Drawing on currents of political Marxism, Malm showed that British capitalists turned from hydropower to industrial coal-fired steam power in response to class struggle rather than, as mainstream views have it, because coal proved a cheaper or more efficient energy source. What steam power enabled was cheaper and more efficient control of labor. It also, as we now know, empowered capitalists to change the climate of the planet by releasing carbon dioxide into the atmosphere (a process later exacerbated by petroleum-based industry).
Ironically, despite Malm's connection to the Brenner school of Marxism, I find the connection between slavery and coal-based production compellingly obvious. If coal could make labor exploitation possible on an uninterrupted basis, so could slavery. Keep in mind the troubles that the American bourgeoisie had putting people to work in the fertile fields of the south.
American Indians were impossible to keep captive because they knew escape routes and native villages that would shelter them. Furthermore, Indians were still powerful enough militarily in the 1700s and early to mid-1800s to make subduing them anything but a cakewalk. Before slavery, indentured servitude was used to provide labor for tobacco, sugar and other cash crops before the demand for cotton soared. While an indentured servant was certainly capable of picking cotton, the contract was based on a fixed length so that eventually he or she could find other work or become yeoman farmers.
Slavery solved that problem just as steam power solved the labor supply problem in England. What difference does it make if one form of labor was based on a wage and the other by repression? The goal was to produce commodities, after all.
That is something that Karl Marx makes clear in V. 1 of Capital:
But as soon as peoples whose production still moves within the lower forms of slave-labour, the corvée, etc. are drawn into a world market dominated by the capitalist mode of production, whereby the sale of their products for export develops into their principal interest, the civilized horrors of over-work are grafted onto the barbaric horrors of slavery, serfdom etc. But in proportion as the export of cotton became of vital interest to those [southern] states [of the American Union], the over-working of the Negro, and sometimes the consumption of his life in seven years of labour, became a factor in a calculated and calculating system. It was no longer a question of obtaining from him a certain quantity of useful products, but rather of the production of surplus-value itself.