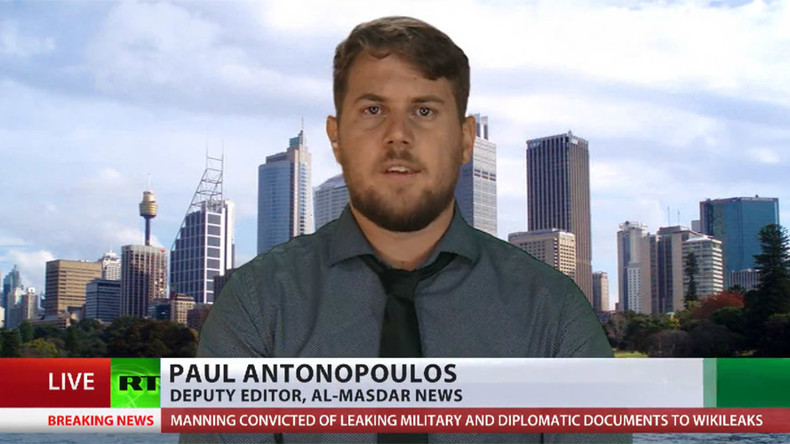 Theodore Postol: got 2013 and 2017 mixed up
On April 5th, one day after the sarin gas attack in Khan Sheikhoun, I wrote an article titled "Sarin gas deaths in Khan Sheikhoun: separating fact from fiction" that called attention to one by Paul Antonopoulos that could have been written within hours of the incident almost as if most of it had been prepared in advance like an obituary. His article was titled "Jumping to conclusions; something is not adding up in Idlib chemical weapons attack" and appeared on Al-Masdar News, where he was serving as Deputy Editor at the time. I predicted that Antonopoulos's article would be the first of hundreds that put forward a "false flag" narrative.
But I never would have predicted that before the month was up, Antonopoulos would be fired from Al-Masdar for having been a neo-Nazi:
Understandably, the board did not go into the sordid details but let me fill you in. He used the identity Minimalistix at Storm Front, a website that is part of the alt-right. In a thread complaining about Australian aborigines, he chimed in:
Who knows? Maybe the guy had a multiple personality disorder like the characters in "The Three Faces of Eve" or the more recent "Split". Without any forewarnings, he would become Minimalistix and goosestep around his apartment before sitting down to write shit that wouldn't even pass muster at Breitbart News.
And all the time he was writing racist garbage, he maintained another identity as a Marxist anti-imperialist, if you take his Twitter account at face value:
Isn't that something? Hammer and sickle. Marx sitting in the middle of adoring disciples, just like a Last Supper painting from the Renaissance. That miserable kind of socialist realism goes hand in hand with pissing on the people who were victims of genocide in Australia. A perfect symbol of the Red-Brown alliance that is spreading across the globe like BP's oil slick in the Gulf of Mexico.
Was it a shock to the editors to see a hatemonger in their midst? Maybe it wouldn't have been so bad if he kept his filth on Al-Masdar where it wouldn't stick out so much against a backdrop of editor and founder Leith Abou Fadel's Tweets:
Who in their right mind would want to have anything to do with such a toxic dump? Well, there is one well-known journalist much beloved on the left who sees its editor as her go-to source of news on the Middle East (the word al-masdar means source):
It was clear that despite the similarity between what Antonopoulos and Theodore Postol were writing about Khan Sheikhoun, there was little likelihood that the closeted fascist would ever be afforded the same respect that the MIT professor emeritus was paid in The Nation, Truth-Out, Truthdig and Alternet: the Four Horsemen of the Liberal Establishment.
His latest article might have been a wake-up call for these magazines as well as many other pro-Assad outlets that have circulated his "skepticism" about Assad's culpability that is about as fact-based as the crap written by climate skeptics who also teach at Ivy League schools and use their credentials to peddle lies paid for by the energy companies. I doubt that anybody pays Postol. He apparently writes nonsense because he like so many others has been seduced by Islamophobia (and perhaps a fellow fascist like Antonopoulos named Maram Susli).
On April 26th, Postol wrote an article titled "The French Intelligence Report of April 26, 2017 Contradicts the Allegations in the White House Intelligence Report of April 11, 2017". He states:
Now, more than two weeks after the dubious allegations published in the WHR [White House Report], the French Government has released a report that totally contradicts the already dubious allegations in the WHR.
The French Report instead claims that there were at least three munitions dropped from helicopters in the town of Saraqib, more than 30 miles north of the alleged sarin release crater identified by the WHR.
The WHR claims that a fixed wing aircraft was the originator of the airdropped munition at the alleged dispersal site. The French Intelligence Report alleges that a helicopter was used to drop sarin loaded grenades at three different locations in Saraqib.
Both reports cannot simultaneously be true. The French Report essentially refutes the claims in the White House Intelligence Report of April 11, 2017. This is yet another indication that there are fundamental problems with the claims made by the White House that were used to justify the April 7, 2017 military strike in Syria. It also raises questions about statements praising the accuracy of the WHR by the National Security Advisor, H. R. McMaster, and the Secretary of Defense, James Mattis. Both claimed very high confidence in the quality and accuracy of the intelligence from the WHR.
Well, of course both reports can't be "simultaneously true" because they are referring to incidents 4 years apart. The French report details an attack that took place on April 29, 2013 while the Khan Sheikhoun attack took place this month. What this tells me is that years of absence from the rigors of the academy have left Theodore Postol rather flabby in the intellectual department just as old age takes the toll on one's muscles. If he had instead taken up some innocent hobby such as birdwatching, one would not fault him for mistaking a red-tailed hawk for a cardinal. My hope is that someone who has his ear can take him aside and urge him to stop writing about Syria. Like Seymour Hersh, Patrick Cockburn, Robert Fisk and Noam Chomsky, their musings on Syria have the character of someone who has sort of lost their way in their advanced years. Why tarnish well-deserved reputations by serving as Assad's spin-doctor? I know about this since I am a geezer myself. If you ever find me writing the kind of nonsense they write, get in touch with my wife and tell her to take away my Macbook and replace it with a needlepoint kit.
UPDATE: