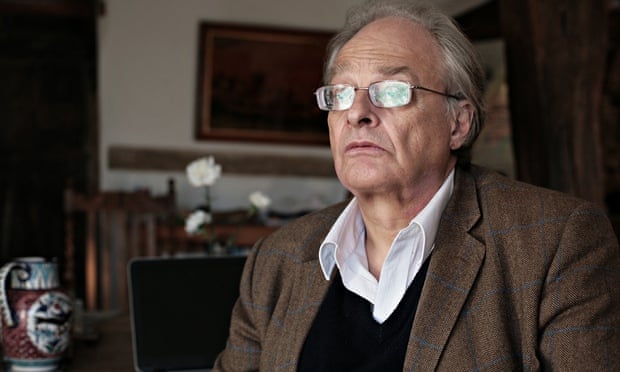 Patrick Cockburn
When Patrick Cockburn sets himself up as a critic of "fake news" from Syria, you are reminded of Donald Trump castigating CNN or the New York Times. In a February 2nd LRB article titled "Who supplies the news? Patrick Cockburn on misreporting in Syria and Iraq", you can expect the worst as the LRB has been a prime purveyor of Assadist propaganda as I pointed out in an article submitted to Critical Muslim that was not published because it risked violating Britain's draconian libel laws. In the first paragraph of Cockburn's article we read:
NBC news reported that more than forty civilians had been burned alive by government troops, vaguely sourcing the story to 'the Arab media'. Another widely publicised story – it made headlines everywhere from the Daily Express to the New York Times – was that twenty women had committed suicide on the same morning to avoid being raped by the arriving soldiers, the source in this case being a well-known insurgent, Abdullah Othman, in a one-sentence quote given to the Daily Beast.
It would be helpful if Cockburn supplied the date for the NBC news article that appears to be the one cited by the regrettable Rania Khalek in her FAIR article making the same points as his. Anybody who has spent much time reading such people will recognize that the same talking points get circulated like a sexually transmitted disease. Her article "In Syria, Western Media Cheer Al Qaeda" written for the pro-Assad FAIR alluded to this:
NBC News (12/13/16) reported that "scores of civilians were burned alive by regime forces." The source for this accusation was unspecified "reports from Arab media."
If you go to the actual NBC News article, you will find this caveat:
Arab media reported that scores of civilians were burned alive by regime forces, although this was not confirmed by observers at the Aleppo Media Center or the U.K.-based Syria Observatory for Human Rights.
Do yourself a favor and Google "Aleppo Media Center" and you will discover that Khalek's co-thinkers at 21st Century Wire, the Off-Guardian, Global Research and Moon of Alabama all consider it to be strictly al-Nusra. So, if you are inclined to put a minus where al-Nusra puts a plus, couldn't you say that it was confirmed that scores of civilians were burned alive? After all, that's the way these people think. As far as the Syria Observatory for Human Rights is concerned, this is supposedly another pro-jihadist outfit so you get the picture by now. If it didn't pass muster with these two sources, why would Cockburn and Khalek even bother to refer to this unsubstantiated report? I think I know. It is meant to deflect attention from the much easier to verify reports about East Aleppo being bombed into oblivion.
In terms of the NY Times report on twenty women committing suicide to avoid being raped by the arriving soldiers, you must wonder once again why Cockburn did not bother to supply a link or even a date. I can't blame him. If he did, you would find out that the item was not in the newspaper of record but in a blog post of something called Women in the World that has a rather tenuous connection to the Times. It is a LLC corporation founded in 2010 whose main purpose is to hold yearly conferences on women's empowerment. The women who write for it are not on the NY Times payroll and do not speak in the paper's name.
Cockburn obviously sought to convey the idea that this unsubstantiated tale of women killing themselves was written by a Times reporter to buttress his argument that there was a shit storm of "fake news" about East Aleppo. The only shit I see flying around is his own.
Cockburn admits that 85 civilians were executed by forces loyal to Assad but derides a comparison with real atrocities:
But it remains a gross exaggeration to compare the events in East Aleppo – as journalists and politicians on both sides of the Atlantic did in December – with the mass slaughter of 800,000 people in Rwanda in 1994 or more than 7000 in Srebrenica in 1995.
I am not sure who is going around making such a comparison but the facts speak for themselves. A half-million have been killed in Syria and more than half the country has been forced to flee their homes. If there is a more brutal regime in this century than Assad's, I would be hard put to name it.
Cockburn does admit that East Aleppo has been the target of indiscriminate Russian and Syrian air strikes but tries to balance that devastation with the fact that there were between 8000 and 10,000 rebel fighters in East Aleppo. Sure, everybody knows that when terrorists are immersed in a civilian population, there is no reason to turn pacifist. The proper comparison is with the IDF that resorts to the same kind of aerial bombardment of Gaza to destroy Hamas, which had the temerity to hide out in apartment buildings. It would have been best for the fighters in East Aleppo to assemble in some open field far from East Aleppo and wave their jihadist flags so that the MIGs would have a much easier job of exterminating them without collateral damage.
He points out that when the residents of East Aleppo were offered a choice over where they would go after the Baathists took over, most decided to go to government controlled territory. This was proof in his eyes that they were afraid of the jihadists in rebel-controlled territory like Idlib that would behead them for smoking cigarettes and the like. How silly of some people to conclude that Idlib was avoided because it was being bombed back into the stone age as well. A few weeks ago, I got a FB message from a law student who had been driven out of East Aleppo and had relocated to Idlib—probably because he was a known enemy of the dictatorship (why else would he have sent me a FB friend request?) and would have been murdered by Assad's goons in Damascus. Not long after he got there, he broke a leg fleeing from a Russian bombing attack rather than a jihadist intent on beheading him for a failure to follow sharia law.
Charles Glass
Turning to another high-toned purveyor of Assadist propaganda that was included in my Critical Muslim article, there's the NY Review of Books that has had the reputation of being in line with Samantha Power who has written many "humanitarian intervention" articles for them over the years. When it comes to Syria, however, the friends of Obama who run the magazine were much more inclined to feature pro-Assad hacks like Charles Glass who has a piece in the latest issue titled "How Assad is Winning".
Glass was a reporter for such outlets as ABC News, where he was the Mideast correspondent between 1983 and 1993, and Newsweek. So where does he get the balls to lecture about guerrilla warfare as if he were John Reed who rode with Pancho Villa? He pontificates:
In both cases, opposition fighters failed to shield people from the regime's sieges and assaults as well as the misbehavior of their own "rogue elements." Rather than wage a mobile guerrilla war and build a solid coalition within the population, they occupied land they could not hold.
Right, as if you could ward off MIGs with an AK-47 or an RPG. The only way that the people could have been shielded was if the CIA had not intervened to block MANPADs from entering Syria.
Glass's fundamental premise in this article is that "The government, with its known record of harsh human rights abuses including torture, demonstrated more flexibility than its opponents." By flexibility, he means that it could act as both soft cop and hard cop. If rebels and their civilian supporters accepted a "deal" (ie. surrender), they'd be spared; otherwise the barrel bombs would keep falling. You wonder how the liberal editors could read Glass's manure and not see right through it. The soft cop and the hard cop were the same person. You keep dropping barrel bombs until the obstinate rebels cried uncle. It was the same strategy Reagan used against the Sandinistas, after all.
The remainder of the article is a report from what Glass is honest enough to describe as a "Potemkin Village" where the rebels and civilians who have cried uncle can be spared from future torment:
The camp, which the regime must regard as a "Potemkin village" to attract other rebels to accept amnesties, was achieving a kind of normality in an abnormal environment. The children attend school in Harjallah, and they receive remedial lessons in mathematics, Arabic, and English to make up for four years of lost education. "Fifteen women are giving birth," Dib said. "There will be a wedding for five couples in two days."
I left Dib's office to walk through the camp. Four women sitting on the doorstep of a house invited me inside for coffee, as they would have done with a stranger in any Syrian village. My hostess was Ghousoum al-Ghazi, the thirty-three-year-old wife of a farmer whose two children followed us in. Her friend, fifty-four-year-old Ruweida Abdel Majid Naccache, came as well and asked me to sit on a cushion. The house had one bedroom, a bathroom, and a modest front room with a kitchen built into the far wall. Paper-thin mats marked "UNHCR" for the UN's High Commissioner for Refugees covered the freshly washed floor. Mrs. al-Ghazi told me she had moved into the house on August 26, weeks before the final surrender, when civilians were fleeing Daraya. "We were very hungry," she said. "There was fighting every day. The children were afraid at first. Then they got used to it."
Mrs. Naccache recalled life in Daraya: "When there was an airplane, we fled to a shelter. It was just a hole in the ground. We stayed like that for five years. I was there when they besieged the town. I lost a lot of weight. There was no food. Here we are living in heaven."
So this is how Assad is winning the war. You bomb, starve and terrorize an obdurate anti-Assad population until they agree to surrender their arms and move to a pacified refugee camp where they live like they are "in heaven". (You can bet that an Assadist handler was watching over the interview to make sure that this is the sort of thing Glass would hear.)
Glass called it a Potemkin Village. There's another word for them: strategic hamlets. The USA herded Vietnamese peasants into them to deprive the NLF of its base of support. Despite this, the American puppets lost in the long run in the same way that Assad will fall as well. No matter the "freshly washed floor" and the remedial lessons in mathematics. Syrians will never forget how they suffered under Assad. As long as the penalty for opposing the regime is torture or death, there will be an unquenchable desire for freedom by any means necessary. This is obviously something a reporter for ABC and Newsweek will never understand.