So I think I am getting the hang of this twitter thing. Basically it allows a wide range of "personalities", whether from Hollywood or those who write for the Nation, to keep their followers (literally, that's what they are called) to keep track of their comings and goings, or their musings—the sort of thing that used to be found on lavatory walls. Like this:

Just as importantly, it allows the latter group of personalities to make observations about current events without taking the trouble to explain themselves, after all 140 characters does not give you much room for thoughtful analysis. The strategy is to post a link to a picture, a Youtube clip, or an article (probably in descending order) that speaks for itself. When I have asked one of these people for further explanation, they ignore me. Who can blame them, I guess.
Of all the personalities I follow, none epitomizes this form of communications more than Max Blumenthal who has unleashed a steady stream of links to Youtube clips, etc. that would lead any sensible person to conclude that Ukraine is roughly equivalent to Germany after Hitler's election in 1932. This is typical:
If Max had a blog like Richard Seymour, another personality into twittering, then it might be possible to engage with him. I suppose if I had a big megaphone like Blumenthal, I wouldn't put up with disagreeable riffraff myself. But then again, thinking about what a prick I can be, I probably would.
Although I admire Max and consider him one of the leading lights of the liberal left, I have to wonder how much grounding he has in Marxism. Probably none, I'm afraid. Nazism and all the other forms of fascism were defense mechanisms against a rising proletarian resistance to economic ruin. Once fascists come to power, they break the back of the socialist left and the trade unions by imprisoning or killing its leaders and members alike. You know how Martin Niemüller put it: "First they came for the Socialists, and I did not speak out– Because I was not a Socialist; Then they came for the Trade Unionists, and I did not speak out– Because I was not a Trade Unionist."
While there are theoretical debates among Marxists about whether fascism was a meaningful threat after WWII (for reasons too complex to go into here), you can say that the Greek junta of 1967 and the Pinochet dictatorship had many of the same characteristics of classical fascism, first and foremost the need to destroy a militant left and trade union movement.
So I wonder what exactly this has to do with the Ukraine. I can't imagine that the fascists have any enemies in the Western half of the nation since people like Blumenthal probably regard them as having the same mindset as most Israelis. I can just see him going down the streets of Ukraine with his video camera getting somebody chosen at random to blurt out how much they love Stephen Bandera, the patron saint of the Ukrainian right.
One wonders how much success he would have in finding such people given the findings of a scholarly poll on attitudes toward the armed forces during WWII. It turns out that 75 percent of Ukrainians would have backed the Soviet Army while Bandera's Ukrainian Insurgent Army was a choice of only 8% of the respondents. You can read all about it here.
I've heard from one well-known leftist that fascism was not so much a threat against the Ukrainian working-class but against Russia. I tried to picture what that meant, that fascist gangs would pour across the border and launch storm-trooper type attacks on a working class that is not particularly well-known for general strikes and the like? From what I can gather, it is not so much that but fears—particularly those raised at places like Global Research—that a united front of the EU, NATO, the Obama White House, John McCain, Nicholas Kristof and Ukrainian fascists is plotting to provoke a war that will open Russia up for imperialist penetration after the fashion of the wars in Yugoslavia. They see Putin as a Milosevic type figure mounting a nationalistic defense of his nation's assets. I have heard this argument repeatedly from the Global Research left whenever something like Chechnya or Georgia crops up. Even when Western imperialism shows little interest in going to war (or even gives its benediction to the suppression of the Chechen revolt), nothing changes. WWIII is always on the horizon.
Do any of these people have any idea of the character of the Russian economy? Here it is from Russia Today, the horse's mouth:
Russia in world's top 3 recipients of foreign investment for first time – UN
Published time: January 29, 2014 14:55
Foreign direct investment (FDI) in Russia reached a record $94 billion in 2013, a leap of 83 percent on the year before according to a United Nations report. Russia follows the US and China as the third most attractive country for investors.
The Global FDI research published by the UNCTAD – the UN agency responsible for international trade and development – has Russia jumping 6 places from its 9th spot in 2012.
The shift was primarily caused by the UK's BP taking an 18.5 percent stake in Rosneft as part of Rosneft's $57 billion acquisition of TNK-BP.
"FDI in the Russian Federation is expected to keep pace with its 2013 performance as the Russian Government's Direct Investment Fund [RDIF] – a $10 billion fund to promote FDI in the country – has been very actively deployed in collaboration with foreign partners, for example funding a deal with Abu Dhabi's state-owned Mubadala Development Company to invest up to $5 billion in Russian infrastructure," the report says.
The RDIF sealed 6 long-term investment contracts worth above $8 billion last year, which also included deals with the Japan Bank for International Cooperation, France's Caisse Des Depots International, Italy's Fondo Strategico Italiano and the Korea Investment Corporation, the fund said in the e-mailed press-release.
As Blumenthal's daily diet of "the fascists are coming" tweets arrived, a ring of familiarity set in. Hadn't I heard of such a spurious amalgam before? And, bingo, I finally figured out the origin this morning,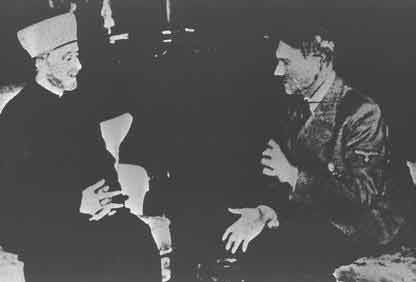 That's Haj Amin al-Husseini, the Grand Mufti of Jerusalem, and Der Fuhrer. For decades now, enemies of the Palestinian people have tried to smear all forms of resistance to the Zionist state as sympathetic to Nazism and/or anti-Semitism.
Zionists love to bring up what Hitler said whenever they debated people like Max Blumenthal:
Germany stood for uncompromising war against the Jews. That naturally included active opposition to the Jewish national home in Palestine….Germany would furnish positive and practical aid to the Arabs involved in the same struggle….Germany's objective [is]…solely the destruction of the Jewish element residing in the Arab sphere….In that hour the Mufti would be the most authoritative spokesman for the Arab world. The Mufti thanked Hitler profusely.
They pull the same crap with Hezbollah. A photo of one of their rallies has made the rounds on many Zionist websites:
The NY Sun, an arch-reactionary an arch-Zionist newspaper, is fond of slinging mud at Hezbollah:
Hezbollah's Nazi Tactics
By STEVEN STALINSKY | July 26, 2006
"Just like Hitler fought the Jews, we are a great Islamic nation of jihad, and we too should fight the Jews and burn them."
— Hisham Shamas, political science student, at a symposium hosted by Hezbollah's Al-Manar TV at Lebanon's largest and only government-run university, Université Libanaise, November 29, 2005
Hezbollah celebrates Holocaust denial, as well. "Jews invented the legend of the Holocaust," the leader of Hezbollah, Sheik Hassan Nasrallah, said on April 9, 2000. During an appearance on Al-Manar on February 3, Sheik Nasrallah called Europe's leading Holocaust denier, Roger Garaudy, "a great French philosopher." On February 23, Sheik Nasrallah appeared on Al-Manar and praised another leading European Holocaust denier, David Irving, for having "denied the existence of gas chambers."
(I defended Hezbollah against the charge of anti-Semitism here https://louisproyect.org/2007/02/06/is-nasrallah-an-anti-semite/.)A
Hamas gets the mud slung at them as well. Here's a photo of a recent rally:
The picture of Sisi and Hitler carry the words: "Hitler killed the Jews for his people, al-Sisi kills his people for the Jews."
I think that Hezbollah and Hamas make all sorts of mistakes but linking them to fascism is a filthy slander that only Zionism is capable of, especially offensive considering how Gaza has become Israel's Warsaw Ghetto.
Although I doubt that this will make much difference to Blumenthal or any other liberal who has made up his mind that the Ukrainians are scary, beady-eyed monsters ready to lynch the first Jew they get their hands on, this is what Ukraine's official Jewry had to say about the fascist threat:
An open letter to Vladimir Putin from prominent Ukrainian Jews has accused the Russian president of using false claims of ultra-nationalism and anti-Semitism to legitimise intervention in Ukraine.
"Historically, Ukrainian Jews are mostly Russian-speaking," begins the letter, dated Friday March 7, which calls on Putin to withdraw his forces from Crimea.
"Our opinion on what is happening carries no less weight than the opinion of those who advise and inform you."
The signatories, among them scholars, scientists, businessmen, artists and musicians, firmly reject the line put forward by Putin in a press conference on Tuesday that the protest movement that removed president Viktor Yanukovich was made up of "anti-Semitic forces on the rampage".
"Your certainty about the growth of anti-Semitism in Ukraine, which you expressed at your press conference, does not correspond to the actual facts," the letter continues. "Perhaps you got Ukraine confused with Russia, where Jewish organisations have noticed growth in anti-Semitic tendencies last year."
And while the signatories accept the existence of "some nationalistic groups" in the anti-Yanukovich protest movement, they insist that "even the most marginal do not dare show anti-Semitism or other xenophobic behaviour".
"And we certainly know that our very few nationalists are well-controlled by civil society and the new Ukrainian government – which is more than can be said for the Russian neo-Nazis, who are encouraged by your security services."
Finally, and even more incontrovertibly, there's the statement made by highly reputable researchers on the Ukrainian and East European far right:
We are a group of researchers who comprise specialists in the field of Ukrainian nationalism studies, and most of the world's few experts on the post-Soviet Ukrainian radical right. Some of us publish regularly in peer-reviewed journals and with academic presses. Others do their research within governmental and non-governmental organizations specializing on the monitoring of xenophobia in Ukraine.
As a result of our professional specialization and research experience, we are aware of the problems, dangers and potential of the involvement of certain right-wing extremist groupings in the Ukrainian protests. Following years of intensive study of this topic, we understand better than many other commentators the risks that its far right participation entails for the EuroMaidan. Some of our critical comments on nationalist tendencies have triggered angry responses from ethnocentrists in Ukraine and the Ukrainian diaspora living in the West.
While we are critical of far right activities on the EuroMaidan, we are, nevertheless, disturbed by a dangerous tendency in too many international media reports dealing with the recent events in Ukraine. An increasing number of lay assessments of the Ukrainian protest movement, to one degree or another, misrepresents the role, salience and impact of Ukraine's far right within the protest movement. Numerous reports allege that the pro-European movement is being infiltrated, driven or taken over by radically ethnocentrist groups of the lunatic fringe. Some presentations create the misleading impression that ultra-nationalist actors and ideas are at the core or helm of the Ukrainian protests. Graphic pictures, juicy quotes, sweeping comparisons and dark historical references are in high demand. They are combined with a disproportionate consideration of one particularly visible, yet politically minor segment within the confusing mosaic that is formed by the hundreds of thousands of protesters with their different motivations, backgrounds and aims.
Here are some of the researchers who signed this statement, starting from the top:
Iryna Bekeshkina, researcher of political behavior in Ukraine, Sociology Institute of the National Academy of Sciences, Ukraine
Tetiana Bezruk, researcher of the far right in Ukraine, Kyiv-Mohyla Academy, Ukraine
Oleksandra Bienert, researcher of racism and homophobia in Ukraine, PRAVO. Berlin Group for Human Rights in Ukraine, Germany
Maksym Butkevych, researcher of xenophobia in post-Soviet Ukraine, "No Borders" Project of the Social Action Center at Kyiv, Ukraine
Vitaly Chernetsky, researcher of modern Ukrainian and Russian culture in the context of globalization, University of Kansas, USA
Now maybe all of them are secretly in cahoots with the ultraright. I guess we'll have to wait for the next intercept of a phone call between one of them and a Svoboda goose-stepping thug to prove that. Let's see when the Russian security forces come up with. My only advice is to read it very carefully since they have a way of slinging the bullshit around.